Continuing Education Credits
For Speech Language Pathologists
ASHA has approved The Greenspan Floortime Approach® as a CE Provider. SLPs who successfully fulfill the requirements and who are members of ASHA will earn their CEUs with the Professional Course.
New York State Education Department also accepts this course for CTLE credits for SLPs.
Download the ASHA CEU information and disclosure statement (PDF).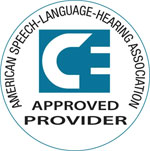 Upon completion of the evaluations of the Professional Course and/or Workshop, all participants in the Professional Course or Workshops will receive a Certificate of Participation documenting the course name, year, and number of hours. Many licensing organizations accept this certificate for continuing education credit. Please check with your organization to determine if they do and include the accompanying detailed descriptions of the Professional Course and/or Workshops when requesting credit from them.
Download a Course Description (PDF)